40 Shaft Road (unit 12-15) Toronto, Ont. M9W 4M2 416-249-5050/ 1-877-488-5058
Product bulletin: Bearing Gen3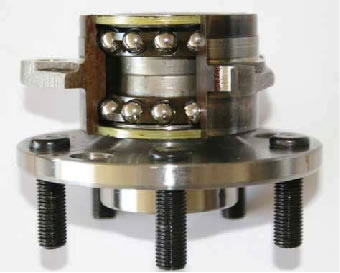 Generation 2.5
Generation 3
Bearing Type
Materials
Heat Treatments
Seal
Gen 3
Bearing quality SAE 1055 grade forged integral outboard inner race
Induction hardened outboard inner race
Multi-lip inboard and outboard seals composed of Buna-N elastomer and stainless/low carbon steel
 
Bearing quality SAE 52100 grade forged separate inboard inner race
Through hardened inboard inner race
 
Bearing quality SAE 1055 grade forged flanged outer race
Induction hardened outer races
Gen 2.5
Bearing quality SAE 52100 grade forged inner races
Through hardened inner races
Inboard and outboard cartridge seals composed of Buna-N elastomer and stainless/low carbon steel
Bearing quality SAE 1055 grade forged flanged outer races
Induction hardened outer races
All hub bearings are manufactured and assembled at our own China based manufacturing facility. We perform all machining, induction heat treatment, spline broaching, grinding, super finishing, and assembly at our manufacturing facility. North American Engineering and R & D is located in our Chicago, Illinois facility.
As required bearing validation during hub bearing development
• Durability testing according to industry OE requirements where applicable, at our factory-located testing facility. When necessary we utilize qualified domestic testing facilities.
• High speed/high temperature testing, when required.
• High cornering load testing to validate hub shaft integrity and orbital forming process.
• Muddy water seal test validation according to industry OE requirements.
• Salt spray testing according to industry OE requirements.
Gen 3 advantages over Gen 2.5:
• Integrated outboard inner raceway with hub shaft versus separate inner raceway
• Results in better control of raceway geometry and reduced hub shaft rotor/wheel mounting flange runout.
• Tighter control of assembled bearing clearance (no need to account for interference fit between inner ring and hub shaft).
• Overall, results in a more accurately operating bearing with a more controlled installed preload.
• Induction hardened outboard inner raceway versus through hardened inner raceway – resulting in improved impact/shock load resistance
• Multi-lip outboard seal provides improved sealing with mounting flange – resulting in improved contamination/water exclusion and longer service life.